Most religious education textbooks reflect the connection between art and faith with images of stained glass, sculpture, and gorgeous paintings. Arts and crafts projects hang on the walls of most every RE classroom.
Yet this pairing of art and faith formation can sometimes feel more like decoration than an invitation to explore our faith. Joe Weyers, a coordinator of youth and young adult ministries at Saint John Neumann in St. Charles, Ill., noticed this feeling when he visited the Sistine Chapel in 2005.
"I looked at the ceiling, thought it was cool, and was done with it," Weyers said. "I had no appreciation for what I was seeing."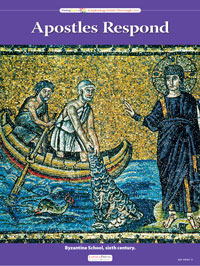 A year later, Weyers took a class called "Christian Faith and the Arts" at Lewis University in Romeoville, Ill. He examined artwork from a Christian point of view, exploring how the elements of the composition were used to express Christian beliefs, ideas, and themes.
His final project was a paper on El Greco's The Assumption of the Virgin, a piece he'd seen at the Art Institute of Chicago. After studying the details, symbols, and parts that formed the whole, Joe realized how much art can tell us about our faith.
"It finally clicked in me that this one piece of art told me almost as much about the Assumption as pages in books had told me," he said. "I didn't want any of the young people I work with in youth ministry to go through what I did [at the Sistine Chapel], which was a blindness to the awesomeness that art has on our faith."
Today, the arts are fundamental in Weyers' work. He runs a Faith through Arts program, a drama ministry, and a scavenger hunt for Christian themes at the Art Institute of Chicago.
It isn't hard to find academic research on how the visual arts enliven children's engagement in the classroom, enhance creative thinking, and promote development of a number of social, emotional, and intellectual skills. Visual arts are also a central component of the newest editions of Finding God: Our Response to God's Gifts, a religious education program from Loyola Press.
Joellyn Cicciarelli, Director of Curricula Development at Loyola Press, had always incorporated engaging art in her curriculum. But with the new edition of Finding God, she wanted to go further to unlock the energy visual arts spurred for faith formation.
She decided to create Finding God Art Prints, large, free-standing flip boards that offer full-color reproductions of renowned artworks. Children are encouraged to gather around the easel to talk about the artist, the subject, the technique, the history, their reactions, and its relation to the lesson's theme.
Cicciarelli explains that these large physical objects engage the children and allow teachers to build a sacred space. After some discussion and related activities, children are then asked to respond with art of their own, be it visual art, singing, movement, or simple prayer.
"These aren't just crafts to take home and hang on the fridge," Cicciarelli says. "These projects are a genuine response to God's gifts."
Susan Veal, a catechist at St. Augustine Parish in Signal Mountain, Tenn., found that incorporating the Finding God Art Prints into her classroom increased her students' engagement with the material and helped them make connections.
"The Art Prints are such a beautiful way to draw the kids into the lesson for the day and make the history and tradition of our faith more meaningful. We talked about the crucifixion during Lent—how the painting makes us feel and why the crucifixion and struggle, in general, is such a central part of our faith."
Weyers, too, has had strong positive responses to his arts programming among his students and the larger parish.
"Parents have responded by wanting to participate in these different offerings," he said. "The young people who have participated enjoy the unique perspective given to them."
Learn more about the Finding God Art Prints: