5 tips for creating an arts-based program

1. An art-based program must be anchored in creativity. The end product is not important, the process is the goal.

2. An arts-based program must have strong support from the pastor and the faith formation commission. It's easy for an outsider to assume children aren't learning but being entertained.

3. An arts-based multi-aged program relies on the commitment of families. Parents are expected to be involved, making sure children attend classes and do homework, as well as volunteer.

4. Space is key. Parishes and organizer should try to find a space that accommodates all families, but also allows for small group break-outs.

5. The prayer experience cannot be ignored. There will be pressures of time, children's focus, and family schedules, but classes must start and end with a prayer (formal, song, choreography, spontaneous, etc.)
For the first seven years of parenting, my husband and I bounced around between parishes and Mass times, depending on nap schedules and how many kids we had. Mass, if we even got there at all, was something we just tried to get through (especially without spilling our entire stash of Cheerios or raisins.)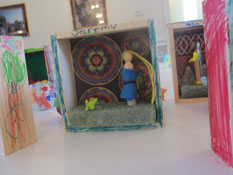 First and second graders create a
manger scene using various materials
and backgrounds.
When our oldest was ready for a religious education program, however, bouncing-around wouldn't work anymore. My husband and I both attended Catholic schools, and we wanted our son Turner to have the same experience we did.
There were some good programs in parishes nearby, but most were 45-minute drop-off lessons. I imagined running errands while Turner got a quick shot of religion. It left me uneasy about his faith experience. We wanted something that invited our whole family to participate, something that would stand out in our schedules and was different from our rush-rush mentality.
Around that time, our friends told us about their children's religious education class. Their arts-based program was multi-aged, had a family retreat component as well as an adult discussion. It would be a bit of a drive, and would disrupt our nap routines, but we were willing to try it.
Eighteen months later, St. Ignatius's Arts Based Multi-generational Program has added an essential element to a family schedule we thought was full.
The program is based on a series of retreats from the 1970s for high school students, led by a Paraguayan Jesuit who used the arts to deepen participants' experience of God. At the end of each retreat, an array of paintings, plays, sculptures, and dances would emerge.
Thirty years later, Maria Rodrigues, an almuna of the program, made her way to St. Ignatius Parish in Boston and approached the pastor about creating a Sunday school program based on her retreat experience.
With the help of a team of parents, Ms. Rodrigues founded the Arts Based Multi-generational Program. And 16 years later, the program is bursting with 85 children from first to sixth grade—with middle school students petitioning to stay in the program through eighth grade.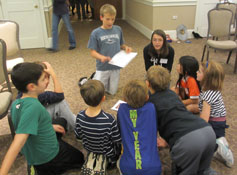 Fifth graders collaborate on a
dramatic presentation.
In every class, art, which includes drama, dance, music, photography, fine arts, and poetry, is the medium children use to experience God and learn about our teachings.
For example, middle school students read Jesus' Resurrection story and were invited to think about the "boulders" in their own lives. What did they need to roll back to enter the life Jesus wants for them? They each sculpted an image of their boulders, depicting things like shyness, pressure to excel at math, and forgiveness.
The Arts Program helps makes the experience of God and religion joyful and fun. It helps children find God in all things, and uses creative expression to access God's ongoing Revelation and presence. Instead of children learning a fact about Church history or the story of Jesus, the arts program helps them hear, feel, explore, and express the scene.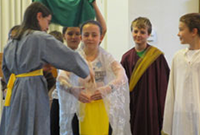 Depiction of the woman at the well scene.
We're pleased our oldest child is in a setting that welcomes the silliness of an eight-year-old boy while still pushing him to make connections between how he plays on the playground and what he hears in the Gospels.
Each week we do the homework as a family and ponder questions like, "What would the Good Samaritan story look like if it happened in your school?" and "Why do we all fail to help our neighbors sometimes?"
We are so grateful to have found a program that has a beautiful mix of theology, joy, community, and ritual.